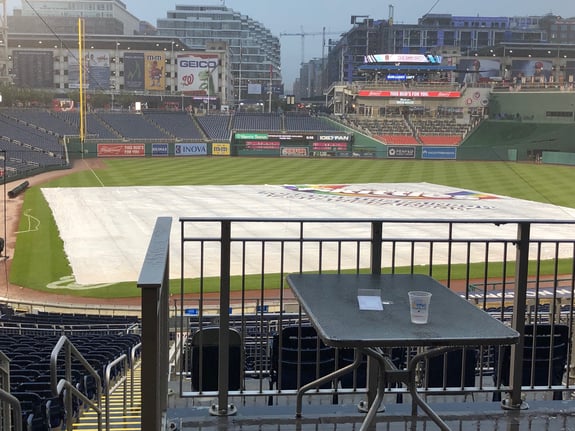 I had the entire client services team together this week for two days. (Check out the awesome picture of the rain delay/postponement we all enjoyed Tuesday night.)
As we worked through the agenda for our get-together I posed a question to each person on the team. Here's what I asked, "The CEO of one of our clients calls you up directly and asks you, 'How are we doing with content?' How do you answer their question?"
We then proceeded to have a conversation that I'm certain is remarkably similar to conversations that take place weekly at growth advisories and agencies like Imagine and within marketing and demand generation teams at most companies. Each person answered the question with a noticeable connection to their area of expertise. There were a lot of "it depends" and a variety of data points like traffic, growth, conversion, bounce rates, time on page, and more.
Like I said, the same conversation that takes place everywhere. The same conversation that has led to the exponential increase in content that has caused a precipitous increase in lead and customer acquisition costs, with little to no impact on outcomes. Many advisors argue, with some legitimacy, that content marketing in general and inbound marketing specifically is no longer worth the cost and effort.
I was not satisfied with these answers. They give no one insight and they end up creating a lot of noise. I'm a big fan of finding the signal and I believe that if you measure something, you best be able to identify that signal and create some scoring mechanism to guide you to where you want to go. So we proceeded with the conversation.