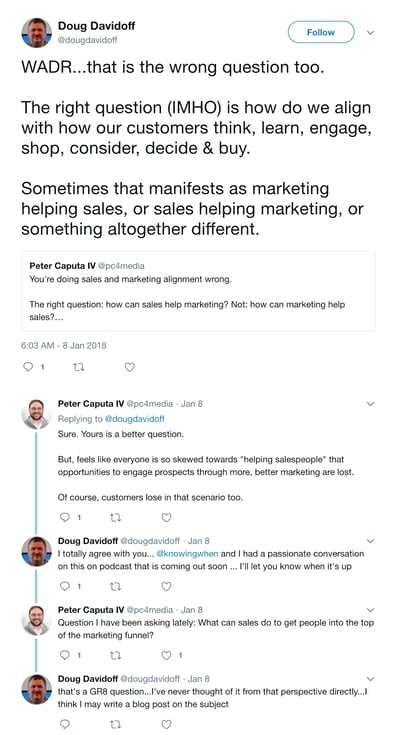 I share a lot on the topic of sales and marketing alignment, but I'm convinced that the successful organizations of tomorrow will move beyond merely aligning sales and marketing, a topic I'll be highlighting in The 3 Places Where Exceptional Marketing Is The Difference Between Making The Sale...or Not webinar later this month.
To succeed in today's noisy world, the terms "marketing" and "sales" are losing the valuable meaning behind their distinctions. These thoughts have led to a lot of work on our part focused on the increasing sales role that marketing must pick up in even the most complex B2B sales situations.
Earlier this week, I had a brief Twitter conversation with Pete Caputa, CEO of Databox. Pete provoked my thinking (as he always does) when he shared a question he'd been pondering for some time, which was "What can salespeople do to get people into the top of the marketing funnel?" I thought it was a great question, and a valuable consideration that I have not written about...until now.