We're all feeling the last leg of 2020 as the year comes to an end. Kick back, relax and listen to our last episode for the year. Mike and Doug discuss Salesforce acquiring Slack, what that acquisition means, and they finally answer the question - We're trying to embrace Inbound more, but how do we manage the transition for our sales team? Keep scrolling to find the video, audio and show notes for this episode.
Audio:
Show Notes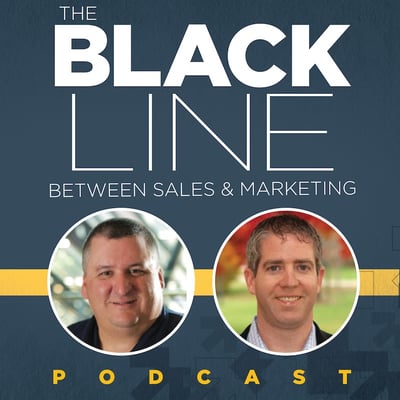 Editor's Note: Thank you all for another amazing year of listening and supporting the podcast. We want to wish you a happy holidays and know that we'll be picking back up in the new year. Stay tuned for more insights and special guests. And if you haven't already, leave the podcast a review either on Apple Podcasts or Spotify
BIG NEWS
Mike and Doug started discussing this big news last episode and realized there was a lot more to talk about. There was a small acquisition a few weeks ago with Salesforce purchasing Acumen Solutions. While this acquisition did happen, it happened the same day Salesforce purchased Slack. Mike starts off saying that it he found it to be bittersweet and hoped the employees made some money.
So why did Salesforce buy out Slack? To stay relevant? To compete? They did it because Slack needed to survive.
As a user Doug hates it on every single level. He liked that Slack was Slack and not Slack/Zoom/Email. What made Slack, Slack was their integrations. The number one reason he hates it is because Slack didn't want to sell and it wasn't strategic. This was a decision made on the fact they couldn't succeed on their own. (To get more information on this acquisition and why Doug doesn't like it, view this article that he brings up on the dark reality behind Slack's billion-dollar sales to Salesforce.) Everything else Slack did made them a great company.
This purchase brings out big tech mentality. Out of all the games we're playing, we're playing a rigged game right now. All the hard work these companies are putting in are feeding into the big players. There are three things happening right now that will make predicting what's going to happen next difficult to impossible:
1. Covid. This taught us that slack in the supply chain might not be terrible
2. Google got sued. Some ugly stuff is going to come out of this and they'll get broken up. Facebook getting sued will be bad and they'll get broken up.
3. Digital transformation. There's an ability to control some amazing level of systems that we don't even know about.
The road is curving. We're at the beginning of a change, and we're going to see these big tech companies broken up, and innovation will be found again.
Question of the Podcast:
The question this episode is: We're trying to embrace Inbound more, but how do we manage the transition for our sales team?
Mike start us off answering this by bringing up the episode where Meghan from HubSpot was on talking about Inbound Marketing. You should get your sales team involved early. By getting them bought in to what the marketing team is doing will get them to embrace the new methodology.
Doug disagrees with this entirely and says that you have to do more than that for salespeople to embrace Inbound. The problem that happens when marketing starts talking about Inbound is that expectations shoot up and you stop doing what you were doing. While you should talk to the sales team and figure out what questions they get, don't go to get their buy-in. Seek their input. It's called show business for a reason. When you show that what you're doing on the marketing side is bringing in leads and turning those leads into sales, that's how you'll get them to embrace Inbound. Build it out and show them what it can do. Don't just tell them about it.
Takeaways:
Mike - Any startup that has a vision to become the next giant, you need to plan and think about how those organizations may disrupt your path. And think about how you could exit. At some point you have to play their game.
Doug - Play your game. Part of the problem is that people get wrapped up in other people's games. What's your game? You can't control the wind, but you can set your sail. And it's called show business for a reason. Stop talking about what you're doing and just do it.