We thought the big news this week was going to be that we finished our all hands meetings, but then the news came through - HubSpot acquired The Hustle. We're discussing why this is a brilliant move for HubSpot and answering a question about too much MarTech on this episode of The Black Line Podcast.

Audio:
Show Notes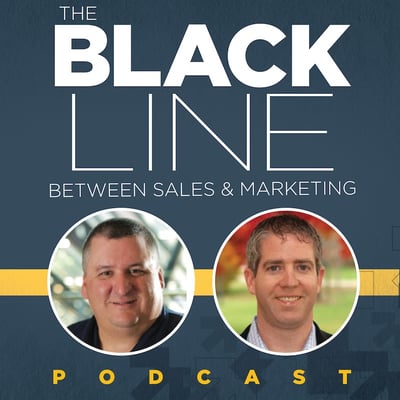 Editor's Note: There are a lot of different articles mentioned in this episode. So that they all stay in one place, here they are.
The Ideal Tech Stack For Mid-Market Companies Serious About Smart Growth
If you haven't already, leave the podcast a review either on Apple Podcasts or Spotify.
BIG NEWS
HubSpot acquired The Hustle, a hypergrowth focused newsletter/community. Both Mike and Doug believe this was a brilliant move. Mike believes it was brilliant because the demographics and subscribers have a very entrepreneurial mindset, and HubSpot essentially is now going to be able to touch more people that would most likely use their products.
What does this do? Mike says it gives HubSpot a broader voice to educate everything that they are about. The follow-up question here is - do you think the Venn diagram between The Hustle and HubSpot are not heavy? Doug thinks the percentage of overlap between the two are very high, although Mike thinks differently.
HubSpot is a content machine, so why wouldn't they just extend their own content to that? Why did they need to purchase The Hustle? Mike's take is that it is like anything in the world. If you want to accelerate the process, sometimes you have to bring in some help.
Doug's take on this whole thing is that we're in an attention economy and the problem is the attention now is the ticket rather than the game. The difference is engagement. The Hustle talks a lot about automation, tech, growth and more. The biggest mistake they could make is if The Hustle starts talking about the flywheel and inbound. HubSpot already has that attention. The Hustle doesn't broaden the audience much. What this did was like what we did with The DEALS Framework. It enforces your process and what you're doing. They aren't going to talk about products, they're going to start talking about things at an earlier stage.
The lesson of this purchase is the value of engagement and the value of getting attention. Be relevant to your audience, that is the number one thing you can do to generate more lift.
Question of the Episode:
The question of this episode is: With there being a lot of technology in MarTech, is it better to have a large tech stack or a small tech stack? And how do you determine which pieces of technology are right for your business?
"The larger the better I say as long as you buy it from a certified reseller and utilize the services of an outside expert." That's Doug's initial answer.
Mike goes on to say that it isn't about the size of the tech stack, it's about the impact it brings. The smaller you can keep it and reach your goals, do it. There's only so much you can use and manage.
Doug adds that the size of your tech stack is irrelevant. The objective isn't size, it's why you're needing or using it. The best tech stack is the simplest to get the job done but that doesn't mean the smallest to get the job done.
The problem for small businesses is that you have things taking up time that would be better elsewhere and using tech will reduce the time, but that turns a soft cost into a hard cost and some companies can't financially pay for some pieces of tech. You have to understand what is your economic model, what is the approach, and where your key inflection points are.
Technology is an enabler. If it enables the business process, use it. Your tech stack should be a byproduct of your game plan. If it isn't, don't pay for it or pay attention to it. And if you're aware of the tech stack you have, then something isn't right. You don't stop to ask if you're going to use a pen or pencil to write. While higher admins should know what pieces of tech you have, your marketers and salespeople shouldn't have to stop to think about what piece of tech they are going to use.
Takeaways:
Mike -When we talk about tech stack it's interesting and people talk about the job to be done and we should hire tech for the job to be done. BUT we can turn it around and think about it, too, as what are we firing that this piece of tech can take its place to allow you to do things easier, faster, and with a lot less effort.
Doug - HubSpot is a smart company and is good with content. They understand the value of engagement and being relevant. Learn from that. Put in the effort to generate insightful content. Realize HubSpot is the proof; this is the proof of engagement.