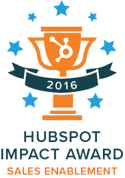 Imagine was awarded a HubSpot Impact Award for Sales Enablement for their ongoing work with MacNair Travel Management. Keep reading to learn more about the incredible results Imagine and MacNair have achieved with a modern demand generation strategy powered by HubSpot's marketing and sales platform!

MacNair Travel Management provides travel management services to middle-market associations, government contractors and private companies. Over the years, the company has transitioned from a neighborhood travel agency to a $60 million travel management company.
For years, MacNair was able to grow using the traditional professional services growth playbook. Provide a superior solution, take great care of your clients and customers, and build relationships within their desired market. This approach allowed MacNair to consistently grow through intense disruption (airlines stopped paying travel agencies commissions and more than 1/3rd of travel agencies have disappeared in the last 15 years) and two intense recessions.
However in 2014 and 2015, MacNair hit a growth plateau and their playbook was no longer working. They simply weren't generating enough qualified sales opportunities to generate enough business that would allow them to maintain, let alone accelerate, their revenue growth.
At this point, Mike MacNair, CEO and President, realized that if they were to hit their $100 million revenue target, they had to change that trend. That's when they brought Imagine Business Development in to assess their existing growth playbook, and design what was needed to reignite their growth engine.
The Challenges of Selling Travel Management Services
Most people are surprised to learn that travel and entertainment typically represent the second largest controllable expense for companies. In fact, global, mega companies like GE, Wal-Mart, Apple, ExxonMobil, etc. have dedicated departments and large international travel management companies to manage the complexities associated with travel programs.
The same is not true for middle market companies (typically representing revenues between $50 - $500 million). They must deal with the same types of complexities, but don't have the internal people focused on managing the process. Additionally, they're not big enough to get the attention and service levels needed from the few large travel management companies that exist.
This market is where MacNair focuses. It is a challenging market and a complicated sale because:
It is a professional services sale, requiring deep expertise to sell and it presents an intangible value proposition.

While the natural focus is on travel (typical travel budgets for these companies are between $300,000 and $2 million), the service is more about managing business processes than buying airline tickets. This requires a significant education component to get a customer to understand the difference between services.

The industry is highly commoditized, and therefore is very difficult for sellers to differentiate.

Travel program management is not something companies think about or consider regularly. For MacNair, about 1/3rd of their target population self-manages their program (what Mike likes to call "Travel Anarchy") and 2/3rd use some form of support. If they analyze performance at all, they often go 2 - 3 years between doing so. This means that building and attracting prospects requires creativity.

From a direct sales perspective, MacNair faces a major challenge in getting their sales process started. Mid-market travel programs, unlike larger programs, rarely have a dedicated manager within the prospect to manage the program. This means that no one really "owns" any problems or outcomes associated with travel management.This situation requires that multiple decision influencers (buyer personas) must be educated and engaged to build the need and desire to investigate the existing approach and ultimately consider switching providers.
Gaining the type of velocity needed to break through the "status quo" barrier and track the results that MacNair desired meant that they needed to bring their message to prospects in a focused manner.
Inbound marketing is the perfect solution for educating and engaging multiple personas, but it would not be enough to drive the results needed. A sales development approach was critical to bridge marketing and sales, and an overall sales enablement strategy ensured there would be alignment to create efficiencies and accelerated results.

"We'd spent years working to build our capabilities and differentiate ourselves from what companies think of as travel agencies. We realized that while we had a great offer, and even a story to tell, we needed a modern demand generation strategy that was as strong or stronger than the new level of competition we faced."
---Mike MacNair, CEO and President
What We Did
We started where we always do by gaining an understanding of their current growth strategy. The first questions we asked were:
Who do you want to be a hero to?

What problem are you solving?

Why should your prospects care?
Answering those three questions led us to make an important adjustment in their demand generation approach.
We clarified their buyer personas and recognized that a very important persona was being ignored. The problem MacNair solved was owned by senior financial executives, however MacNair's message and sales process were not oriented to that persona.

We redesigned their website and moved it to the HubSpot COS system to support the personalization approach we recommended.

We implemented a comprehensive, integrated demand generation strategy that focused on creating compelling content, utilizing inbound marketing to drive and support lead generation, and a sales development process to support lead generation and drive leads to sales qualified status.
Sales Enablement - The Importance of Technology
Implementing a modern day demand generation strategy requires more than just a great strategy, solid content and hard work. To ensure that the right action is taken with the right lead and that marketing, sales development and sales work together like a highly tuned orchestra, a comprehensive sales enablement process is needed to drive real results in a reasonable timeframe.
The sales and marketing technology stack is the cardiovascular system of demand generation. With that, the HubSpot platform was ideal for implementing the strategy.
Buyer Personas: The ability to highlight personas ensures that we can deliver the right message to the right prospect at the right time, whether the prospect is visiting the website, is receiving a marketing email, or is being contacted by a sales rep.
Integrated Marketing and Sales Outreach: Given the critical nature of education in the demand generation process, we use HubSpot's marketing workflows to drive communications to highlight key content and thought leadership while integrating that cadence with sales development rep calls and personalized emails.
Sales Intelligence: The nature of how travel programs are managed means that inbound leads often originate with lower level, non-primary persona people. Utilizing Sidekick intelligence, MacNair is able to quickly assess the fit of a potential company and who the likely primary personas are. This allows quick, effective lead classification and enables sales development reps to be more proactive and smarter in their outreach.
CRM and Database: The fact that the entire demand generation process uses the same database ensures that as anything changes the data is immediately captured, communicated and leveraged on both the marketing and sales sides.
Efficiency and Speed: Research into the time and effort it takes to connect with qualified leads supports the need for the prospecting/sales development process to be fast and efficient; simply put, the more quality calls, the higher the likelihood of success. The Bridge Group's recent report Sales Development 2016: Metrics and Compensation Research Report, shows that the average productivity of a full-time rep is 48 dials and 5.6 conversations. Utilizing Sidekick's dialer tool integrated with the HubSpot CRM has allowed MacNair to utilize a half-time equivalent to achieve the same level of production.
Email Insights: Email is an increasingly important tool to support sales efforts. Utilizing the HubSpot CRM & Sidekick we've created high-impact templates that allow reps to send strong emails in less time, while also allowing us to track the effectiveness of the emails and messages to use to adjust and improve the impact of the message.
So...What Results Has This Produced
Before embarking on this effort, MacNair averaged 20 - 30 leads per year; and more than half of their new business growth was the result of direct referrals (which were on a several year declining trend). Additionally, the MacNair sales team complained that establishing who MacNair is and how they are different was getting more difficult.
MacNair's demand generation strategy moved into execution in June of 2015. At that time, several targets were set:
Improve the position and thought leadership of MacNair Travel Management, using traffic to the blog as the primary measurement. While MacNair had been blogging inconsistently for years, their traffic to the blog was typically less than 25 visits a month. In March 2016, they'll have more than 550 visits. Additionally, the blog that previously generated no leads whatsoever, has generated 76 leads in the last six months.
To generate more consistent growth, MacNair identified an important need to build and support the top and middle of their funnel. The measurements for this are the number of actively managed qualified leads and actively managed marketing qualified leads (MQLs).
The major purpose, and therefore the key metric, of the effort was the creation of qualified, defined sales opportunities that were ready to enter the MacNair pipeline. This would enable MacNair to hire a higher caliber sales rep, and to enable their sales team to be focused on managing the sales process, knowing that prospecting was being addressed. The sales development process was launched in Q4 of 2015 and has yielded these results.
Here's what Jess Cardenas, Marketing & Communications Director for MacNair Travel, has to say about the results:

"We've tried everything but have never been able to sustain a successful prospecting effort. We've had more prospecting success over the last five months than we had the previous two years. Even more exciting is the fact that we have a sustainable lead pipeline developing, in addition to our sales pipeline, that is allowing us to manage our sales resources and efforts with far more confidence."
The successes of the integrated inbound marketing/sales development/sales enablement approach, that has been implemented at MacNair, go beyond the sales and lead pipelines. Seeing the needle move in the right direction has given MacNair the confidence to make necessary changes in personnel which has improved morale throughout the organization. These unintended consequences have made our efforts even more rewarding.