Hola from a beach in Mexico! That's right...I'm taking a vacation. Today's blog post is "my message in a bottle" to you from that beach and coincidentally, it's all about messaging.
Messaging has never been more important than it is today. To get the attention (and keep it) of your audience, it's imperative that you are crafting and delivering the right messages to the right people at the right time. There's a lot of hard work that goes into developing your message. If you don't get it right, your entire demand generation strategy will be in jeopardy.
That's why it is so important to spend time creating the right message and then continue to review it to be sure it is resonating with your buyer personas. Here are five posts to help you do just that. I hope you spend time reviewing them and assess your messaging with a fresh perspective.
The biggest challenge facing most sales efforts today is simply being heard. It is for this reason that messaging is so crucially important.
An effectively designed, delivered, supported and powerful message gets you in the right doors and frames the conversation in a way that dramatically improves your odds of winning sales at higher margins. Anything less dooms you to a commoditized position, where you must fight for everything.
Over the last 20 years, I've studied the components of a powerful message. I've read the books, perused the blogs and articles and attended the workshops. This work has led me to two conclusions:
There is simply no magic pill to creating a powerful message. It is hard work and takes (a lot of) thinking at a deep level.
While everyone has an opinion on what it takes to create such a message, you can boil the best thinking into five simple ingredients.
When you get a group of inbound marketers together, you'll quickly hear spirited conversation about how to create effective ToFU, MoFU and BoFU content. Then, when you bring executives from growing companies to listen to the conversation, eyes quickly begin to roll and concentration is quickly lost.
Of course, the ideas behind creating effective Top of Funnel, Middle of Funnel and Bottom of Funnel strategies are very important. However, the real purpose behind those strategies is often lost as the focus on process and "best practices" overshadows the importance of desired results and real world situations.
So, while funnel management deserves the attention it's getting, let's agree on what the core purpose of this attention should be. Delivering the right message (and/or taking the right action) to the right person at the right time is the purpose. When the focus is on the funnel instead of the purpose, bad things can happen.
You may not have noticed, but there's a lot of great content out there. As you develop an inbound approach, creating (good) content is crucial for three reasons:

First and foremost, content represents table stakes to play

It allows you to compete in the vital Zero Moment of Truth (ZMOT)

Consistent content creation enables you to increase traffic, awareness and engagement
Your challenge in the content game is being heard. Unlike the proverbial tree falling in the empty forest, you're competing in a marketplace that makes Times Square seem tranquil and quiet. So, if you want to win this game, how do you compete?
As I shared in a post back in 2012, the key is to always be challenging. If your content (and headlines) don't challenge your prospect's thinking, it's highly unlikely you'll be noticed, and even less likely you'll generate engagement. As the landmark research done by the Sales Executive Council discovered, customers and prospects value selling organizations that challenge their thinking, provide unique insights into better performance and enable them to navigate unseen pitfalls.
There's nothing that brings terror to the mind of entrepreneurs, business executives and salespeople than when they're faced with the question, "So, what do you do?" from a qualified prospect. I see this every time I conduct sales training, do strategic planning or messaging work with my clients.
After some stammering, I get vague platitudes or long-winded descriptions of what is done. None of which creates a strong position for the seller, clarity for the prospect or the basis for an effective sales-related conversation.
This issue impacts far more than your "elevator speech," as ultimately it translates to how you talk about yourself on your website, in your marketing materials and in how the market perceives your company and its offerings. In today's Zero-Moment-of-Truth (ZMOT) world, the ability to succinctly communicate your value proposition without "being there" to explain it is absolutely crucial to success.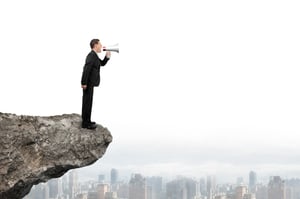 Last week, I had the chance to hear Gary Vaynerchuk's keynote presentation at the Rainmaker 16 conference. In his presentation, he said something that clearly resonated with the audience on the topic of attention. "Attention is the one thing we all sell against."
Years ago, Seth Godin said that attention is the single most valuable asset any business can have. While, or more accurately because, attention is so vital to a successful demand generation program, and getting earning attention is tougher than ever.
Just as I was considering that, Vaynerchuk shared a thought that really got me going. "Gaining attention is actually quite simple. All you have to do is figure out what the other guy really wants and reverse engineer it from there."