"There's just a lot of things about mobile that are amazing opportunities for advertisers and for businesses. So I expect tablets and smartphones to revolutionize how people do marketing"
Larry Page, CEO @ Google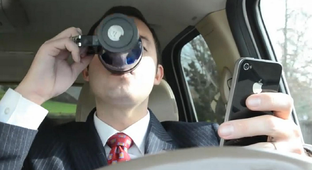 As marketer's, we must learn to engage at every stage of the buying process. Most recently, the use of mobile devices throughout the buying process has been the most overlooked, although not by design, it is having a negative impact on campaigns across the board. The statistics and data around mobile engagement point to smartphone in particular as the on the go communication device of choice. Yet, even with all of the data and excitement around our smartphones and capabilities, Marketers still haven't embraced mobile ready campaigns and content.
A few things to consider as a marketing professional:
Only 25% of brands have a mobile strategy
45% of US based companies have only a desktop website
27% of US based companies have a mobile site
Mobile ad spend has more than quadrupled since 2009 and is projected to keep growing at the same pace ($.5B in 2009, $3B in 2013)
87% of Americans own a cell phone
74% of those that own a cell phone, own a smartphone
90% of business professionals use their smartphone for business and personal use
Using traditional marketing and advertising to engage with your audience is being impacted by social media networks and our society's mobile device dependency. Add to that all of the incredible analytics capabilities of the many cloud-based business intelligence providers and we are truly pioneering new relationship marketing practices.
More targeted, timely, and helpful messaging and information sourcing through mobile communications channels are helping your buyers get trusted advice as well as finding the right products and services. This also gives the buyer the opportunity to source the best deals any place and at any time. So not only should your website be mobile friendly, but your blogs, your call-to-actions, landing pages, and thank you pages must all be mobile friendly! Mobile relationship marketing (MRM) is truly the new call to action for any company that understands the importance of continuous touch points and interaction with buyers. MRM can create real business value, improve your business processes, provoke buying actions, and increase customer loyalty.
Its obvious that in todays market, marketing struggles to get the attention of prospects and keep their attention in order to turn them into buyers, we can't ignore the mobile channel. This has to be an integral part of our overall marketing strategy, meaning, it should be combined with our blogging efforts, our social media strategy, etc. This channel, just like all of the others we talk about here at Imagine on a regular basis, cannot be the only channel a company uses to engage with buyers.
With the buyers completing 60% of their journey before they even contact your sales rep, adding this channel to your overall strategy gives you one more opportunity to potentially influence that buyer. As more and more buyers use their smart phones and tablets to conduct research about your products, services, and company, it's imperative to your success to start paying attention to your mobile strategy.
As you plan your next campaign, be sure to ask your team the following:
Are our blogs and landing pages mobile optimized?
Are the e-mails optimized to be read and reacted to on a mobile platform?
Are the forms smart, so only new data needs to be entered?
This plays into your mobile strategy. If you have one in place already, that's great. Yet, we know from talking with our customers most don't even think about it. So at the very least, if you don't have a true mobile strategy, at least make sure your campaign, CTA's, landing pages, and thank you pages are mobile compatible. This might give you a few more touches in your marketplace that can ultimately lead to more buyers.